Thrusters
SH320 tunnel thruster hydraulic Ø300 U11
320kg thrust, 11cm³
S-LINK™

S-Link™ is a CAN-based control system used for communication between Sleipner products installed on a vessel.

Compact and waterproof plugs
Keyed and color-coded connectors to ensure correct and easy installation
Different cable lengths, extenders and T-connectors makes the system scalable and flexible to install

Q-PROP™

The Q-PROP™ has measured noise reductions of up to 75% in controlled environments. The five-bladed skew propeller reduces noise levels while maintaining exceptional efficiency. Some thruster models even see an increase in thrust power.

The expected noise reduction in average installations: 20-40%
Upgrade kits are available for most Sleipner thruster models with special adaptors

PRO™

A PRO™ thruster system enables you to apply only the necessary power to complete your maneuver. The variable speed control eliminates the noise associated with standard on/off thrusters.

The system also includes a practical hold-function. In a dual system (bow and stern) a single press of a button will keep you alongside the docks - making docking truly a one-person job. 

Speed controlled thrusters are the best choice for joystick interaction.​

IGNITION PROTECTION

Our ignition-protected products are compliant with ISO 8846 and ensure gasoline or other flammable fumes cannot enter or be ignited.

FLEXIBLE INSTALLATION

Sleipner offers installation flexibility to work with the space you have. Our thruster models allow installation at any angle on the tunnel, tailored to fit any space available in your vessel.

HYD

Powered by hydraulic pressure.

GALVANIC SEPARATION

Immersed parts exposed to seawater are galvanic isolated from the onboard electrical system, eliminating stray currents.

SEALED DRIVE LUBRICATION

The thruster gearleg is pre-filled for lifetime lubrication and sealed using a long-time mechanical seal with ceramic and carbon surfaces for ultimate security against water intrusion.

FLEXIBLE COUPLING

Flexible coupling protects the product's driveline by compensating for misalignment between the shafts of the electric motor and gearleg.

TWIN COUNTER-ROTATING PROPELLERS

Two counter-rotating propellers offer the most thrust at a good performance ratio in a minimal tunnel diameter. This system is used in our larger thrusters for maximum power. Our twin-counter thruster range is the favorite among leading boatbuilders in high-end yachts.
Item code: SH320/300TC-U11
SH320 is a powerful thruster with 320 kg continuous thrust, suitable for boats between 42-75 feet. It can be mounted as a bow or stern thruster.
Its compact and efficient design ensures maximum power and minimal noise and vibrations, providing smooth and comfortable boat maneuvering.
A remote control is a popular accessory. See some of the important product and safety features below.
Read more
Contact us
Sleipner offers a wide range of hydraulic thrusters for installation in tunnels. These models are designed for larger recreational and commercial boats with a power range of 100-1400 kg, and can be mounted in both the bow and stern.
To ensure that all hydraulic components are compatible and maintain the same high quality, Sleipner offers complete hydraulic systems with guaranteed performance. All hydraulic thruster systems are delivered ready for use to provide a straightforward solution and the highest degree of quality assurance.
Hydraulic tank 
A thruster will usually be the most demanding consumer among the hydraulic parts on board. Sleipner's hydraulic system is specially designed for ultimate flexibility to support all other hydraulic parts on board.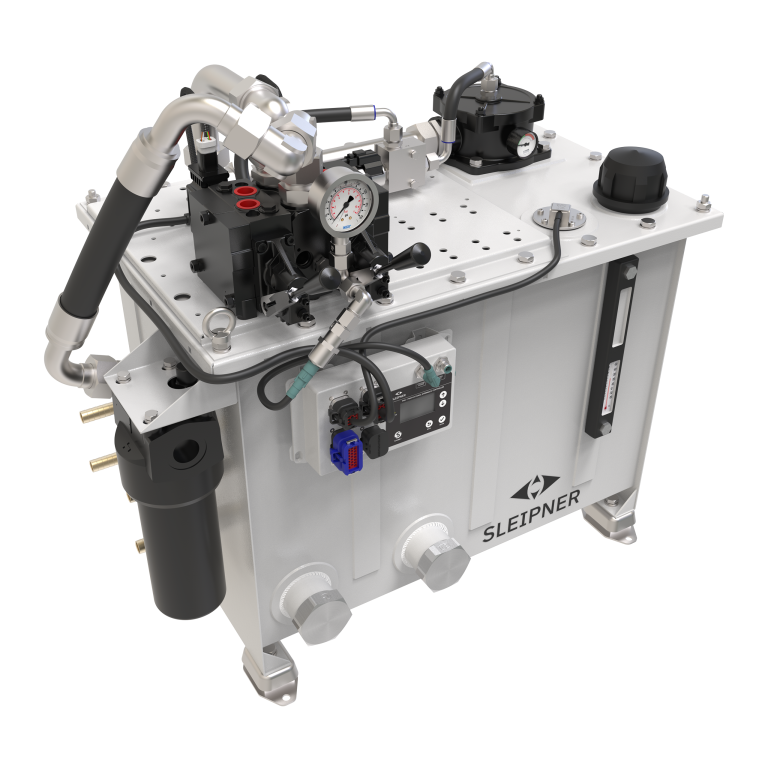 Tank in powder-coated stainless steel
Soft mounting points to avoid structural noise from floor-mounted tanks
Internal splash plate that helps remove air from the oil
Sloping bottom in the tank with drain plug at the lowest point in floor-mounted tanks
All internal hydraulic connections on the tank come pre-installed
All internal electrical connections for thrusters are pre-wired and ready with splice connectors
Optional temperature-controlled water pump for oil cooler
Flexible configuration
Sleipner's hydraulic systems offer significant savings in labor costs and space as practically every required component comes pre-installed and wired. Sleipner's systems only require external hydraulic and electrical connections (which can only be done on board), saving time and money for the installer. A Sleipner system comes with all necessary drawings, installation manuals, system start-up manual, maintenance manuals, etc. to ensure easy and correct installation and a lifetime of reliability and easy service work.
Hydraulic pump
Sleipner's hydraulic thruster systems only use variable displacement piston pumps. They offer a high level of reliability, efficiency, and flexibility.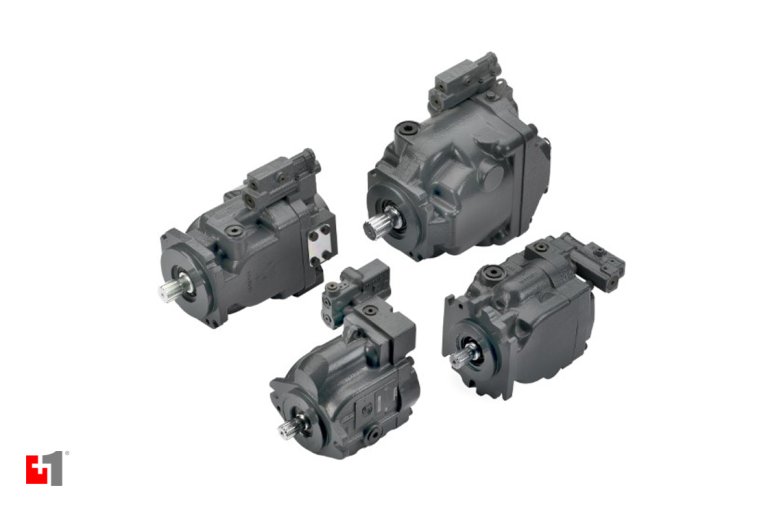 Benefits of a load sensing system
Load sensing means that the displacement of the pump is controlled by a pressure signal from the hydraulic control valves. The pump will then continuously sense whether more flow or pressure is needed for consumers and adjust the displacement accordingly. This means there is no need to constantly rely on electrical activation or pump large volumes of unused oil around the boat.
Reliable and proven system
Delivers only the flow and pressure actually needed at the time
Load sensing control on the pump is more reliable than an electrical clutch
Low heat development and energy loss
Highly efficient piston pumps
Low noise level in both drive and idle mode
Spark-proof for installation in gasoline areas
Support
Sleipner's hydraulic systems only use hydraulic components from well-known manufacturers to ensure reliability and easy access to spare parts and support worldwide.
A legacy that commits

We've lived and worked with the unruly sea for a hundred years. That's why we develop important features that enables a boat to handle the sea better – that enable you to enjoy your boat, at anchor and at full speed. That is why you wanted a boat, isn't it?

Beautiful engineering

The technology in our solutions is world-class. We know, because we've developed it ourselves, just as we manufacture every solution, and follow them until their fixed to a hull, ourselves. This meticulous attention to detail is why your day out always will be better with a Sleipner aboard.

Worldwide service

We take pride in our solutions' function throughout their lifespan. So, we never really let them out of sight, even when they've left for distant shores. Our global network is there to ensure continuous optimal function. You know what you get with a Sleipner, today and tomorrow.