Thrusters
SXP35 PRO™ external bow/stern pod thruster 12V
35kg variable thrust, <=50mm hull, w/controller
S-LINK™

S-Link™ is a CAN-based control system used for communication between Sleipner products installed on a vessel.

Compact and waterproof plugs
Keyed and color-coded connectors to ensure correct and easy installation
Different cable lengths, extenders and T-connectors makes the system scalable and flexible to install

Q-PROP™

The Q-PROP™ has measured noise reductions of up to 75% in controlled environments. The five-bladed skew propeller reduces noise levels while maintaining exceptional efficiency. Some thruster models even see an increase in thrust power.

The expected noise reduction in average installations: 20-40%
Upgrade kits are available for most Sleipner thruster models with special adaptors

PRO™

A PRO™ thruster system enables you to apply only the necessary power to complete your maneuver. The variable speed control eliminates the noise associated with standard on/off thrusters.

The system also includes a practical hold-function. In a dual system (bow and stern) a single press of a button will keep you alongside the docks - making docking truly a one-person job. 

Speed controlled thrusters are the best choice for joystick interaction.​

INTELLIGENT POWER CONTROL

Sleipner's patented intelligent power control provides a minimal delay between drive directions to reduce wear of the mechanical parts while monitoring solenoid functions. In the case of a solenoid lock-in, the thruster will automatically stop without extra user action or controlling the main switch.

IGNITION PROTECTION

Our ignition-protected products are compliant with ISO 8846 and ensure gasoline or other flammable fumes cannot enter or be ignited.

WATERPROOF HOUSING

Waterproof housing for use in areas exposed to water.

OVERHEAT PROTECTION

When an unsafe temperature is detected, On/off thrusters are automatically shut off to prevent overheating. PRO™ thrusters with speed control provide extended run-time by derating the thrust power to maintain temperature within safe levels. 

DC

Powered by direct current.

GALVANIC SEPARATION

Immersed parts exposed to seawater are galvanic isolated from the onboard electrical system, eliminating stray currents.

SEALED DRIVE LUBRICATION

The thruster gearleg is pre-filled for lifetime lubrication and sealed using a long-time mechanical seal with ceramic and carbon surfaces for ultimate security against water intrusion.

SINGLE PROPELLER

A properly engineered single propeller system will be the most energy efficient thruster. Its compact design fits easily into narrow bows making it the perfect match for our smaller thruster range. With more than 60.000 single propeller thrusters in use, the single propeller has proven its reliability.
Item code: SXP35/140-12V-50POD
SXP35 PRO™ pod thruster with variable speed control and 35-42 kg thrust. Can be mounted in the bow and/or stern, suitable for boats up to 32 feet with a flat or shallow front keel. Its versatile design allows for installation on boats of any hull shape. 
The external unit is easy to mount. No GRP work is necessary on boats with a hull thickness of up to 50 mm. The hydropod cover enables mounting under the hull in the water flow for low- and mid-speed vessels. 
Remote control is a popular accessory. See some of the important product and safety features below. 
Read more
The compact SX models are available in four configurations that allow a vast array of installation options in the bow and stern of the boat. 
1. Standard stern thruster
The most compact stern thruster on the market. Minimal height and width requirements.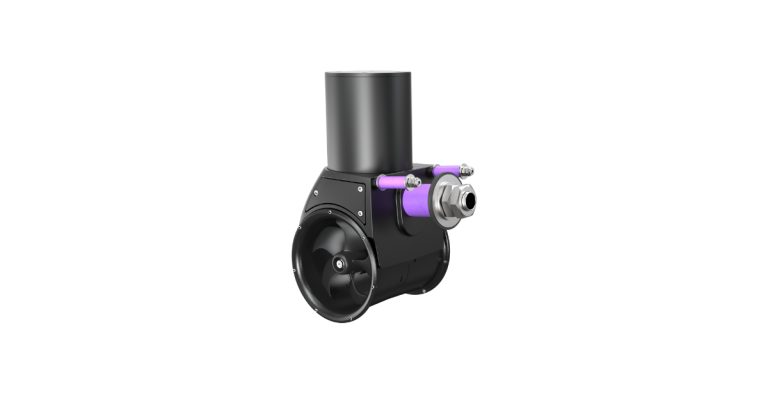 2. Stern thruster with protection grids
An optimal solution for increased safety during watersport activities or for vessels used in waters with debris or drifting objects.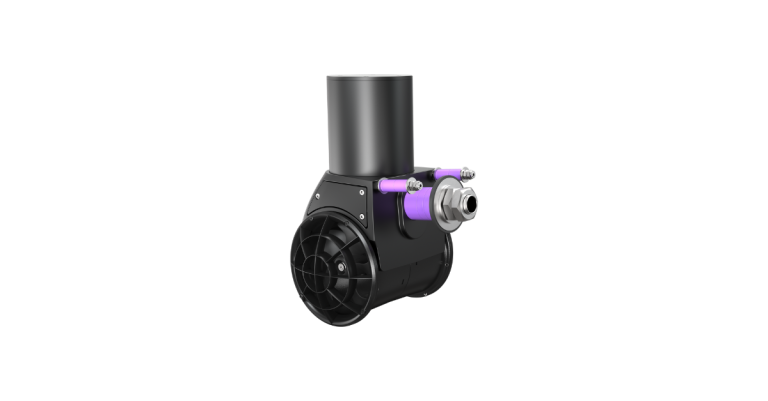 3. Stern thruster with cowls
Many vessels have a hull design requirement on the boat's transom that disturbs the water flow to and from the stern thruster, thus making it less efficient. The adjustable cowls direct the water flow to be less disturbed, obtain a higher efficiency level, and allow a shallow installation closer to the waterline.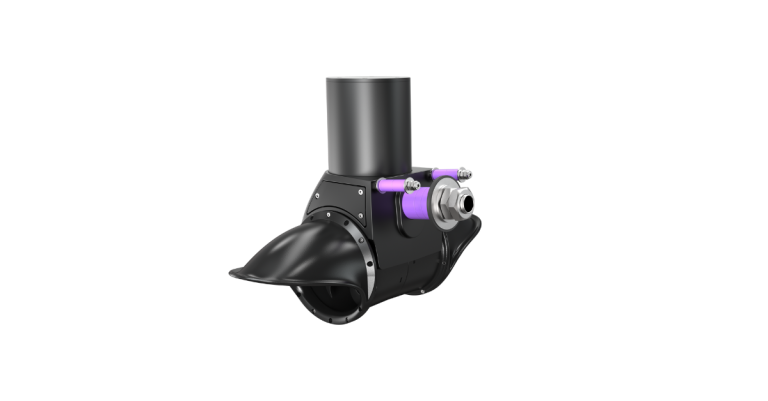 4. Hydropod bow- and stern thruster
With the hydropod low-drag cover, the SX can be mounted under the hull in the water flow for low- and mid-speed vessels. The optimal design adds minimal drag and will, in most installations, not be noticeable. The in-flow configuration is perfect for boats where it is difficult to fit a tunnel thruster or, for example, as a stern thruster for cruising sailboats.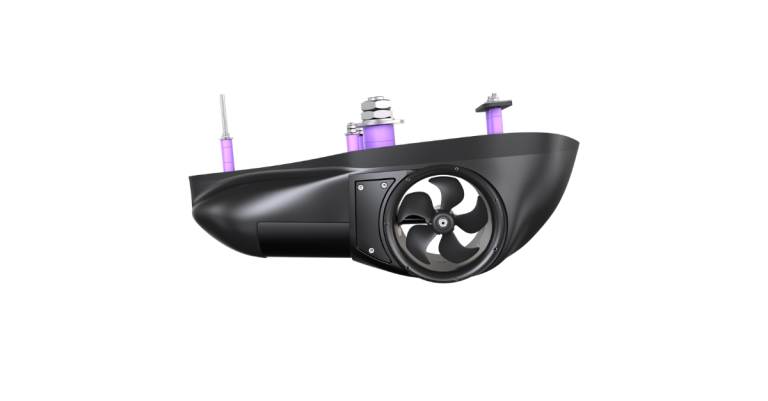 Features
Ultra-compact
Fits where others won't. The SX's versatile installation possibilities and small size make it a perfect choice for vessels whose inside configuration does not allow a standard thruster installation.
Easy installation
Only requires drilling three small holes with a minimal footprint on the hull. No fiberglass work is necessary. Compatible with standard Side-Power products, control panels, and accessories.
Minimal noise emission
With a short and optimally designed tunnel, vibration-absorbing sleeves on all hull connections, 5-bladed Q-Prop™, and the fully submerged unit, the thruster operates remarkably quietly.
Safety
Ignition protected. It can advantageously be installed in stern locations/ on high-octane fuel gasoline boats due to a hermetically sealed housing. ISO 8846 and UL 1500 certified. Galvanic isolation kit for metal/aluminum hulls and safety protection grids available as accessories.
Long run times
The external placement of the unit provides a more efficient water cooling and allows a prolonged duration per cycle of the unit than with traditional bow and stern thrusters. Even longer run times in the PRO™ version when running at reduced speed.
Optimal efficiency
The optimum efficiency of the SX models results from a shorter transverse channel and ideal leverage created by more profound and remote positioning away from the pivot point. Provide up to 40 percent higher efficiency than conventional tunnels.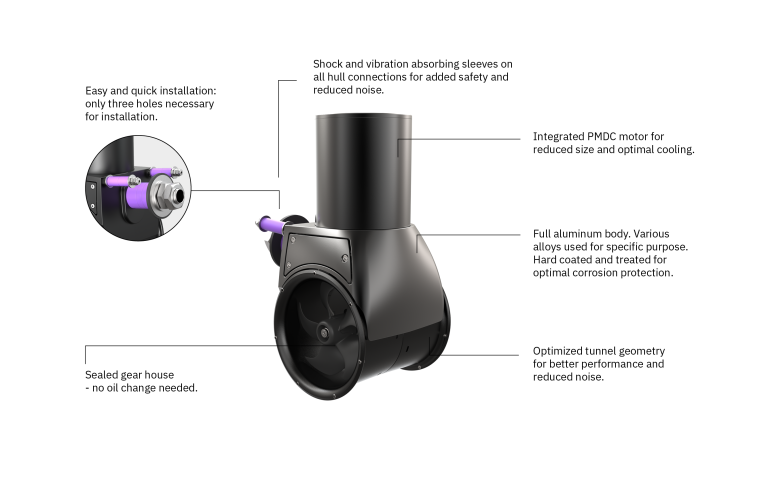 A Legacy That Commits

We've lived and worked with the unruly sea for a hundred years. That's why we develop important features that enables a boat to handle the sea better – that enable you to enjoy your boat, at anchor and at full speed. That is why you wanted a boat, isn't it?

Beautiful Engineering

The technology in our solutions is world-class. We know, because we've developed it ourselves, just as we manufacture every solution, and follow them until their fixed to a hull, ourselves. This meticulous attention to detail is why your day out always will be better with a Sleipner aboard.

Worldwide Service

We take pride in our solutions' function throughout their lifespan. So, we never really let them out of sight, even when they've left for distant shores. Our global network is there to ensure continuous optimal function. You know what you get with a Sleipner, today and tomorrow.