Thrusters
SRHP320 retract thruster hydraulic G23
320kg thrust, 23cm³
S-LINK™

S-Link™ is a CAN-based control system used for communication between Sleipner products installed on a vessel.

Compact and waterproof plugs
Keyed and color-coded connectors to ensure correct and easy installation
Different cable lengths, extenders and T-connectors makes the system scalable and flexible to install

Q-PROP™

The Q-PROP™ has measured noise reductions of up to 75% in controlled environments. The five-bladed skew propeller reduces noise levels while maintaining exceptional efficiency. Some thruster models even see an increase in thrust power.

The expected noise reduction in average installations: 20-40%
Upgrade kits are available for most Sleipner thruster models with special adaptors

PRO™

A PRO™ thruster system enables you to apply only the necessary power to complete your maneuver. The variable speed control eliminates the noise associated with standard on/off thrusters.

The system also includes a practical hold-function. In a dual system (bow and stern) a single press of a button will keep you alongside the docks - making docking truly a one-person job. 

Speed controlled thrusters are the best choice for joystick interaction.​

HYD

Powered by hydraulic pressure.

SEALED DRIVE LUBRICATION

The thruster gearleg is pre-filled for lifetime lubrication and sealed using a long-time mechanical seal with ceramic and carbon surfaces for ultimate security against water intrusion.

FLEXIBLE COUPLING

Flexible coupling protects the product's driveline by compensating for misalignment between the shafts of the electric motor and gearleg.

TWIN COUNTER-ROTATING PROPELLERS

Two counter-rotating propellers offer the most thrust at a good performance ratio in a minimal tunnel diameter. This system is used in our larger thrusters for maximum power. Our twin-counter thruster range is the favorite among leading boatbuilders in high-end yachts.
Item code: SRHP320/300TC-G23
SHRP320 is a sturdy retract thruster with 320 kg of thrust, suitable for boats between 72-110 feet/ 22-34 meters. It can be mounted as a bow or stern thruster.
The thruster is mounted on a flange and has a fast deployment and retraction time. The unit is compact, making it perfect for boats with limited height space.
A remote control is a popular accessory. See some of the important product and safety features below.
Read more
Retractable thrusters cause no drag
If you have a performance boat, sail, or power, and you're worried about the smallest amounts of drag, a retractable thruster is a perfect solution for you.
With power ranging from 100-1400 kg for installation in both the bow and stern, Sleipner offers a wide range of hydraulic retractable thrusters designed for commercial vessels and larger leisure boats.
Sleipner's retractable thrusters work with all types of propulsion systems – DC, AC, and hydraulic – and can be installed in the bow and the stern of the boat. Available as standard (on/off) or PRO™ with variable speed control extending from 80 kg to 300 kg of thrust. 
Like all Sleipner products, the retractable thrusters are made with high safety standards. Safety is important in product design, from build quality to ease of installation, to ensure long-term reliability.
There are three versions of the retractable thrusters, one designed to be directly molded in and two designed to be mounted on a flange. The flange can be a mold-in base from Sleipner, or boat builders can use materials suitable for their hull or as part of their hull design.
The flange-mounted models have the thruster unit placed in a casing that can be bolted to a base. This makes installing the thrusters in hulls made from different materials easier. It also simplifies series production, as it avoids the need to mix laminating and engineering jobs.
Quick deployment
The thrusters with a tunnel diameter of 185 mm use one fast and powerful actuator. In comparison, the models with a diameter of 250 mm and 300 mm have two actuators to handle the increased forces while maintaining the same exceptionally fast deployment time.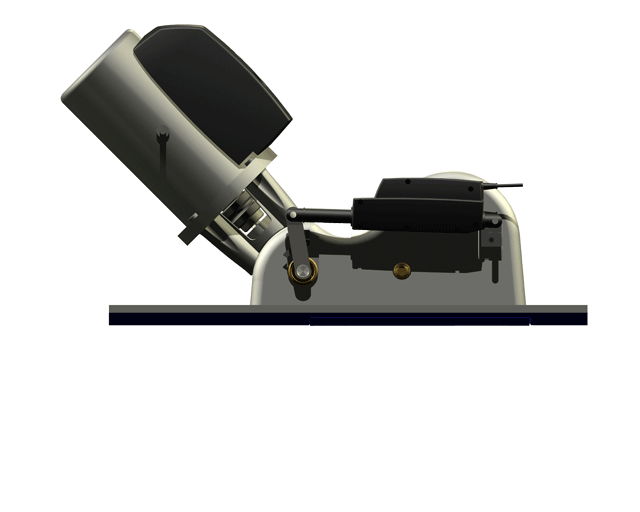 Features
Fitted as bow and/or stern thruster
Quiet operation
Plug & Play S-Link™ two way communication control cable wiring
Motor assembly rigid mounted on retracting casing: no moving parts during retracting operation 
Compact size 
Reliable retracting mechanism avoids sticking 
Fast deployment
Easy-to-use control panel with status feedback from thruster
Available as PRO with variable speed control
The retract mechanism
The unique design of the underwater mechanism has only a few, but very solid parts, contributing to the stability of the unit. The unit's design makes the thruster as compact as possible while enabling safe use of heavier motors on more powerful units. The vertical installation of the motor (SRV) reduces shock forces on the unit in extreme waves compared to motors mounted at an angle.
A hydraulic thruster system
Sleipner offers complete hydraulic systems that are guaranteed to work well together and maintain high quality. These systems include all the necessary parts and are ready to be installed, ensuring the best possible quality.
Using a hydraulic system for multiple functions on a vessel can be a cost-effective choice. Once the main system is installed, adding a new function only requires adding a simple and relatively inexpensive hydraulic valve. This is more efficient and cheaper than using separate electric motors, solenoids, fuses, and battery switches for each function, especially for larger equipment.
Hydraulic valves and motors are also better suited for harsh environments such as the forepeak, bilge, transom, and ignition protection areas. Common hydraulic applications include thrusters, stabilizers, winches, capstans, cranes, and other equipment.
Sleipner's hydraulic systems are designed to provide excellent performance for the primary components and the flexibility to power multiple additional equipment. 
A legacy that commits

We've lived and worked with the unruly sea for a hundred years. That's why we develop important features that enables a boat to handle the sea better – that enable you to enjoy your boat, at anchor and at full speed. That is why you wanted a boat, isn't it?

Beautiful engineering

The technology in our solutions is world-class. We know, because we've developed it ourselves, just as we manufacture every solution, and follow them until their fixed to a hull, ourselves. This meticulous attention to detail is why your day out always will be better with a Sleipner aboard.

Worldwide service

We take pride in our solutions' function throughout their lifespan. So, we never really let them out of sight, even when they've left for distant shores. Our global network is there to ensure continuous optimal function. You know what you get with a Sleipner, today and tomorrow.