What is the S-Link™ control system?
S-Link™ is a CAN-based control system used for communication between Sleipner products installed on a vessel. The system uses backbone cables as a common power and communication bus with separate spur cables to each connected unit.
Units with low power consumption are powered directly from the S-Link™ bus therefore, one power cable must be connected to the backbone cable through a T-connector.
Main advantages of S-Link™ system
Compact and waterproof plugs.
Backbone and spur cables have different color coding and keying to ensure correct and easy installation.
Backbone cables have blue connectors, and spur cables have green connectors.
Different cable lengths and backbone extenders make the system scalable and flexible to install.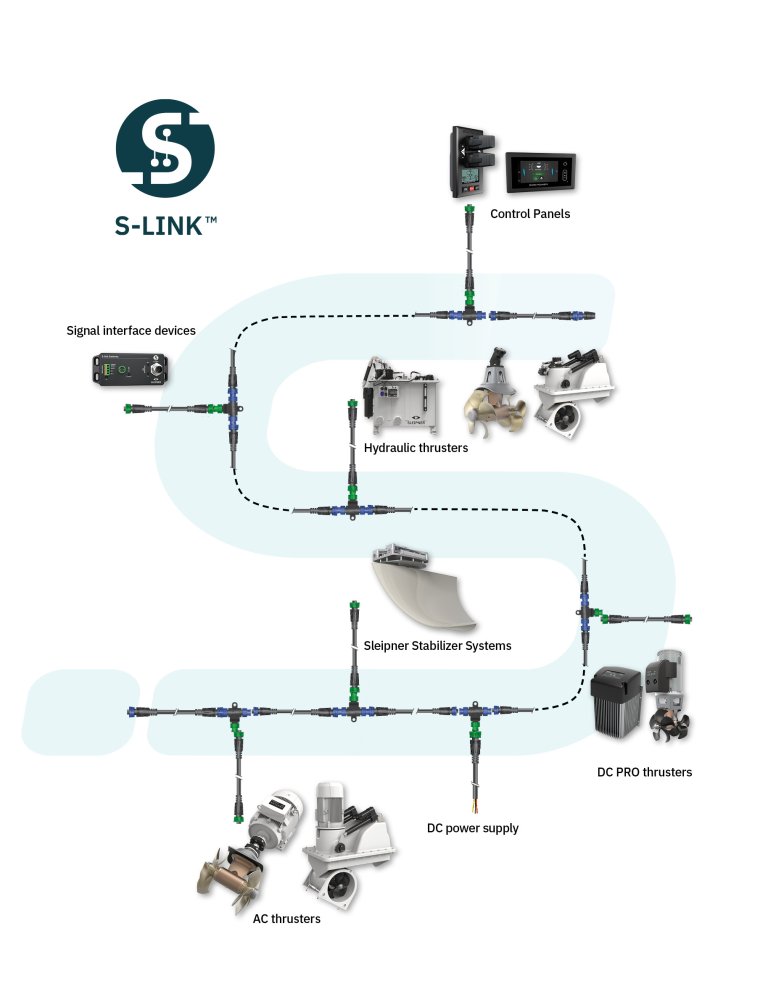 Installation of S-Link™ cables
Select appropriate cables to keep the length of the backbone and spur cables to a minimum. In the case of planned installation with a total backbone.
Cable length exceeding 100 meters, please consult your local distributor.
The S-Link™ cables should be installed to avoid a sharp bend radius. The locking mechanism on connectors must be fully closed. To ensure a long lifetime, cables, T-connectors and extenders should not be located so that they are permanently immersed in water or other fluids. It is also recommended to install cables so water and condensation do not run along the cables and into the connectors.
The power cable should ideally be connected around the middle of the backbone cable to ensure an equal voltage drop at each end of the backbone cable. The yellow and black wire in the power cable shall be connected to GND, and the red wire connected to +12VDC or +24VDC.
To reduce the risk of interference, avoid routing the S-Link™ cables close to equipment such as radio transmitters, antennas, or high voltage cables. The backbone must be terminated at each end with the end terminator.
Spur cables can be left unterminated to prepare for the installation of future additional equipment. In such cases, ensure to protect open connectors from water and moisture to avoid corrosion in the connectors.
S-Link™ cables explained
Backbone cable
Forms the communication and power bus throughout a vessel. Available in different standard lengths. *Blue ends.
Spur cable
Used to connect S-Link™ compliant products to the backbone cable. One spur cable must be used for each connected component, with no exceptions. Recommended to be as short as practically possible. Available in different standard lengths. *Green ends.
Power cable
Required in all installations for connection of backbone cable to a power supply. It shall not be more than one power cable in an installation. *Green ends.
T-connector
Used for connection of spur or power cable to the backbone cable. One T-connector for each connected cable. *Blue ends.
Backbone extender
Connects two backbone cables to extend the length. *Blue ends.
End terminator
Must be one at each end of the backbone bus. *Blue ends.
4-port T-connector
The 4-port T-connector allows multiple spur cables to be connected. The 4-port T-connector comes with two sealing caps to protect unused ports. *Blue ends.