A complete hydraulic system
We offer complete hydraulic systems with guaranteed performance for all the components to be compatible and maintain the same high quality. All systems are ready-to-use to provide the simplest possible installation and the highest quality assurance.
A hydraulic system makes sound economic sense for many vessels since several functions can run off one central hydraulic source. Once the basic system is in place (pump, reservoir, cooler), adding a function is simply a matter of adding a relatively inexpensive hydraulic valve. This approach is more efficient and cost-effective than running each individual function with its own electric motor, solenoid, fuse, and battery switch, especially with larger equipment.
Additionally, hydraulic valves and motors are better choices in harsh environments such as the forepeak, bilge, and transom and areas requiring ignition protection. Typical hydraulic applications are:
Bow thrusters and stern thrusters
Stabilizers
Winches
Capstans
Cranes
Sleipner's hydraulic systems are designed to provide outstanding performance of the core components and flexibility to power multiple additional pieces of equipment.
Hydraulic tank
A thruster will normally be the most demanding consumer among the hydraulic parts onboard. Sleipner's hydraulic systems are specifically designed for ultimate flexibility to support any of the other hydraulic parts onboard.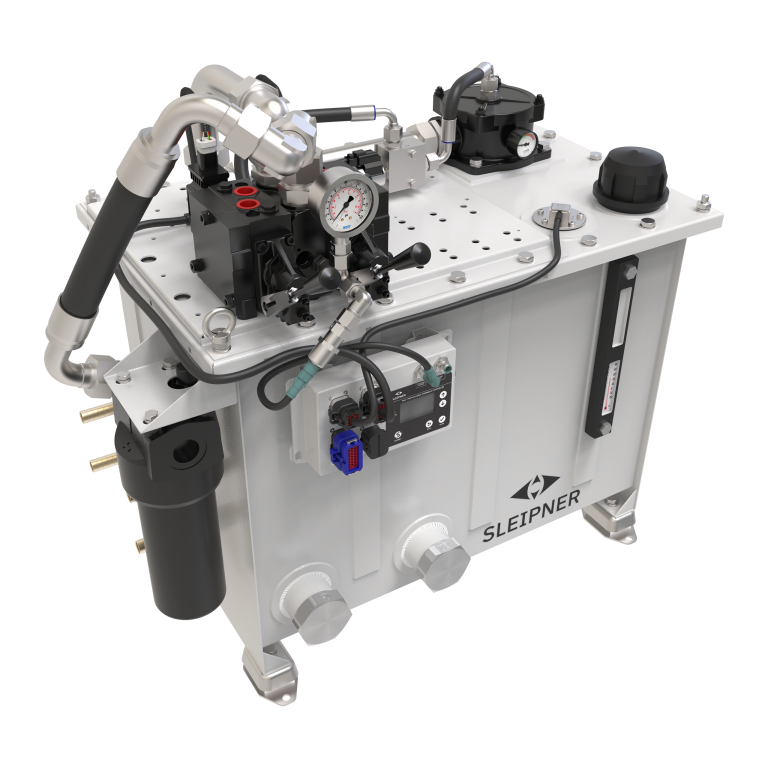 Sleipner hydraulic tanks
The tanks are powder coated and manufactured in stainless steel
Equipped with vibration dampers to avoid structural carried noise and remove vibrations from the hull
Internal baffle plate preventing air in the hydraulic oil
Angled bottom ensuring drainage at the lowest point 
All internal hydraulic connections and hoses are pre-fitted
All internal electric connections are pre-wired, ready with extension connectors
Optional temperature-controlled water pump for oil cooler
Flexible setup
Cooling and filtration
It is very important that the hydraulic oil is kept clean and that the system runs at the right temperature to ensure a long and problem-free operation. To ensure this, Sleipner hydraulic tanks are equipped with the following: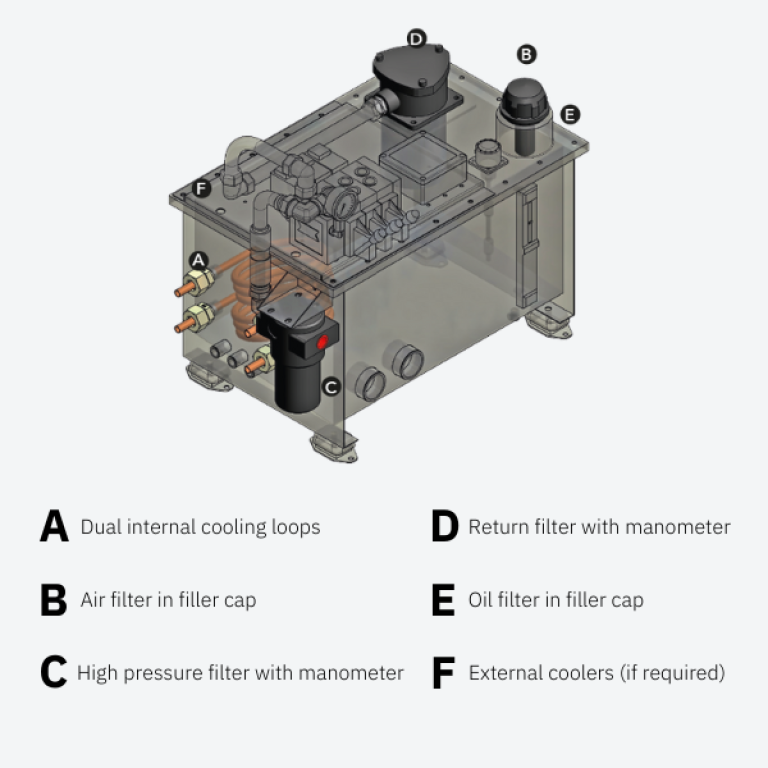 PVG control valve
The control valve has a safety valve on the inlet which secures the system against overpressure. The control valve can be expanded to control up to seven onboard consumers, delivering different pressure and flow.
Pressure relief valves on all outputs protect against overpressure on the various consumers
The outputs from the control valve can deliver proportional or on/off operation to the consumer
The control valve is equipped with manual control levers on each outlet.
All PVG control valves are serial numbered, so we have an overview of all settings on valves supplied by Sleipner
Hydraulic flow curve specialized on thruster modules to match propellers thrust curves (proportional controlled systems)
Manual activation of each consumer for easy servicing and troubleshooting. Identification of each valve system for reference to factory specifications
Information and alarm system
There is additional information and notifications on the tank to ensure problem-free operation.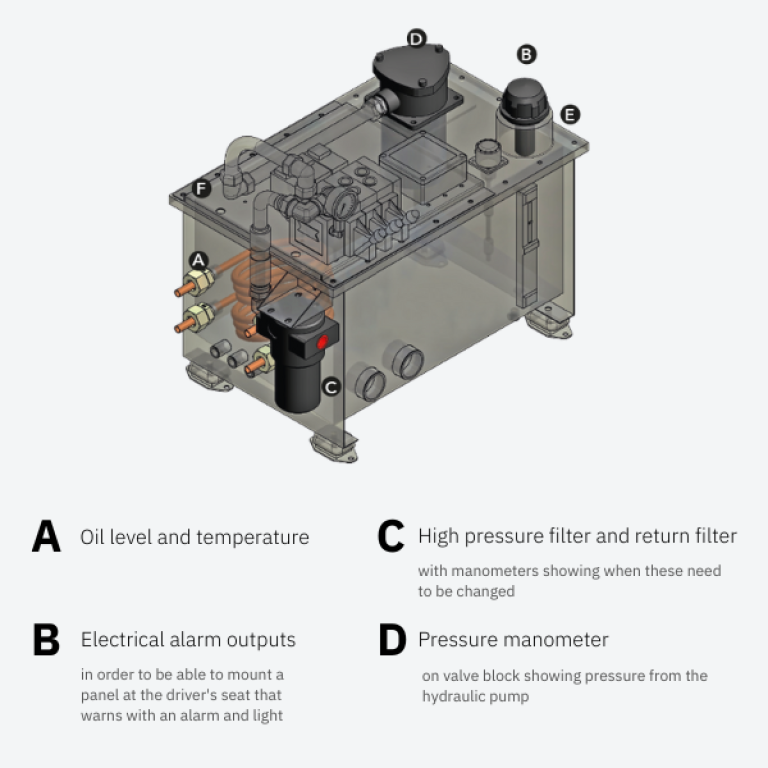 Hydraulic pump
Sleipner hydraulic thruster systems use exclusively variable displacement piston pumps with load sense. These pumps are of very high quality and ensure an effective system with minimal noise, as the pump only supplies the amount of oil needed. This also means that the hydraulic tank size becomes smaller.
The thruster is usually the biggest consumer in the hydraulic system, and the system is often calculated based on this. If several consumers are to be operated simultaneously, Sleipner will calculate the correct dimensioning that ensures a proper choice of components. It is important that we get into the planning early so that a finished hydraulic system works optimally. At idling speed, you need full effect on the thruster, so it is important that the system is calculated based on this.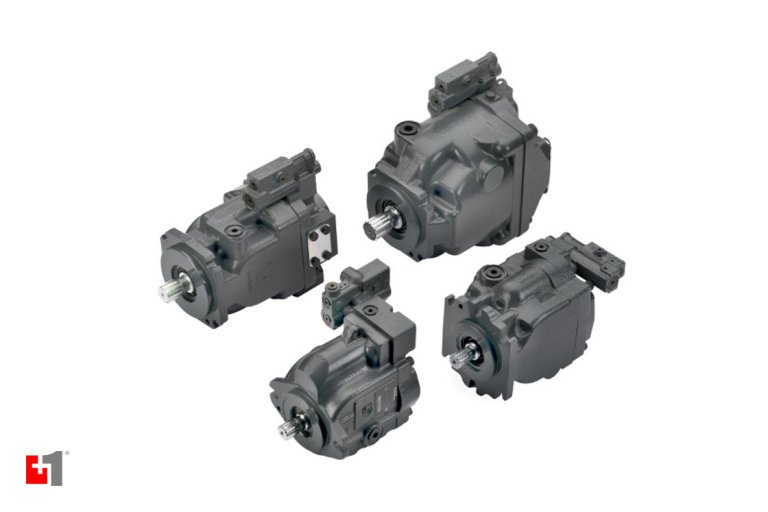 Advantages with load sense system
The hydraulic pumps are in many sizes and in both right and left-hand versions.
A very reliable and well-proven system
Provides immediately the amount of oil needed at the moment
By controlling the hydraulic system via load sensing, the hydraulic pump can be run constantly, and there is no need for a connection between the motor and the hydraulic pump
Less heat and energy loss develop as only the amount of oil needed at the moment is used
High efficiency
Low noise level in operation and idling
Ignition protected for fitting in gas/petrol areas
What is load sense?
Load sense means that the pump displacement is controlled by a pressure signal from the hydraulic control valves. The pump will then continuously sense if there is a need for more flow or pressure to any consumer and adjust the displacement accordingly. This means there is no need to rely on electrical activation or to have large volumes of unused oil pumped around the boat constantly.
Installation of hydraulic pump
It is most common to mount a hydraulic pump on the PTO outlet on the gear. These usually have SAE flanges that fit the hydraulic pump and make installation easy. If there is no PTO outlet on the gear, mounting the pump in front of the engine is most common. The pump must be mounted directly onto the axle at the front with a flexible coupling, as the power pull is too large to use belt drive and side pull on the crankshaft. The hydraulic pump can also be mounted on a generator if this is powerful enough. This often gives the opportunity to use a smaller pump as the speed is often 1500 RPM.