Sleipner joins in on industry's first outboard joystick system with seamless bow thruster integration
Sleipner is pleased to announce that we've teamed up with Mercury Marine by enabling the integration of our PRO™ thrusters with their outboard joystick engine control.
Docking has never been easier
With Mercury outboards being used on very large boats, this innovative, integrated new system provides the ability to precisely maneuver large vessels with the same authority and intuitiveness as smaller joystick-controlled boats.
A single joystick control simultaneously operates Mercury's JPO and Sleipner's PRO™ thruster with variable speed control.
Seamless integration
Once deployed, the system will automatically apply the thruster power and outboard throttle to move the boat in the desired direction. You will also be able to operate the bow thruster alone via the Sleipner control panel.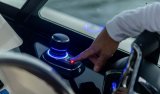 The system is ideal for use on large vessels equipped with two or more Mercury Verado outboards and Joystick Piloting. It's easy to install, with no changes to existing Mercury joystick hardware needed.
Easy tie-in with engines via Sleipner's S-Link™ gateway
Precise maneuvering in tight spaces via bow thruster assist
Ideal for docking in unsettled conditions
Software updates available for the S-Link™ system to keep up with the latest technology
The system will be available in March 2022. Full press release from Mercury Marine is available here.